Achievements:
Kavish Sharma participated in 'Craft- Best Out of Waste' "confluence 2022" held at Army Public School Damana under the agis of "Hubs of Learning" on 4 Nov 2022 and has bagged 3rd position.

Two students Preet and Havesh from class 4B participated in a karate competition hosted by J K Public School Jammu on 13-Sep-2022. Both of them got the second prize.


Meera Ashish Tawade from class 3C won District and State roller skating championship 2022-23. She participated in "Speed- Inline" event (1000 mt , 500 mt and 200 mt race) where she bagged 2 Gold medals at district and 3 Gold Medals at State level event.She will be representing J & K State at national Roller Skate championship at Bangalore in the December month. Skating sport required 'agility', balance, strength and stamina. Meera daily practices 2-3 hours to develop specialized skating skills and aims to bag National Gold medal in upcoming tournament.
MUN
The recent MUN engaged our school delegates in rousing debates on international politics, humanitarian causes and much more in an intellectual discourse of *Erudite Model United Nations 2022* by 10 Lives Education at International Delhi Public School, Bhathindi. Organised on 5,6,7 August 2022, it was a real session to debate, learn, display and build interpersonal skills of the students. Air Force School, Jammu participated for the first time in an offline MUN and the students made it a memorable event by giving their best. The students built connections by interacting with all delegates, organizers, speakers, and chairs, expanding their network and opportunities.
A delegation of 10 students led by the Teacher Coordinator Ms Kusum Rakwal took part in the three day long session of making of the delegates of different committees .
Results:
Best Delegate: Ananya of XI- C
05 students won Verbal Mention:
Vartika of IX- B
Arnav Nambiar of IX- C
Rakshit of XI- A
Reeva of XI- C
Pragya of XII- A
Our school student Tanushka Rakwal of XII-C was appointed as Rapporteur ( Executive Board of NCW Committee) , further promoted to Vice-Chairperson.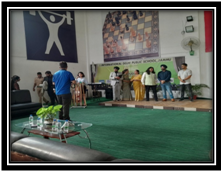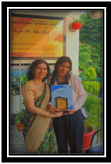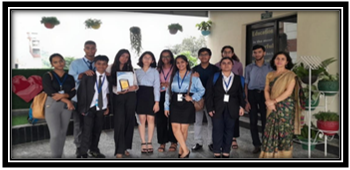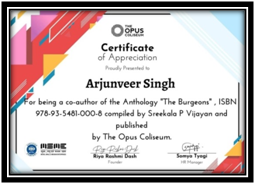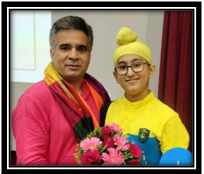 ARJUN VEER SINGH of class 7A won third prize in International Poetry award- Grow Your Buds Poetry Rendion Contest for his poem on Killer Corona and Rising Teen Suicide organised by Motivational Strips- the world's most active writer's forum and reputed educational trust- Soundariya Educational Trust.(International platform)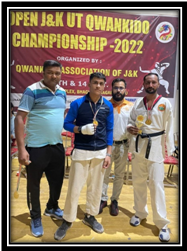 AKARSHIT BANSOTRA of class 9A won gold medal in Open J&K UT Qwankido Championship- 2022 organised by Qwan Ki Do association of J&K.



Hitaishi Rakwal of class 4B won the consolation prize in theme based painting organised by Jodhamal School Jammu under the banner of Sahodaya Schools Complex.

AIR FORCE SCHOOL JAMMU RESULT CLASS 10th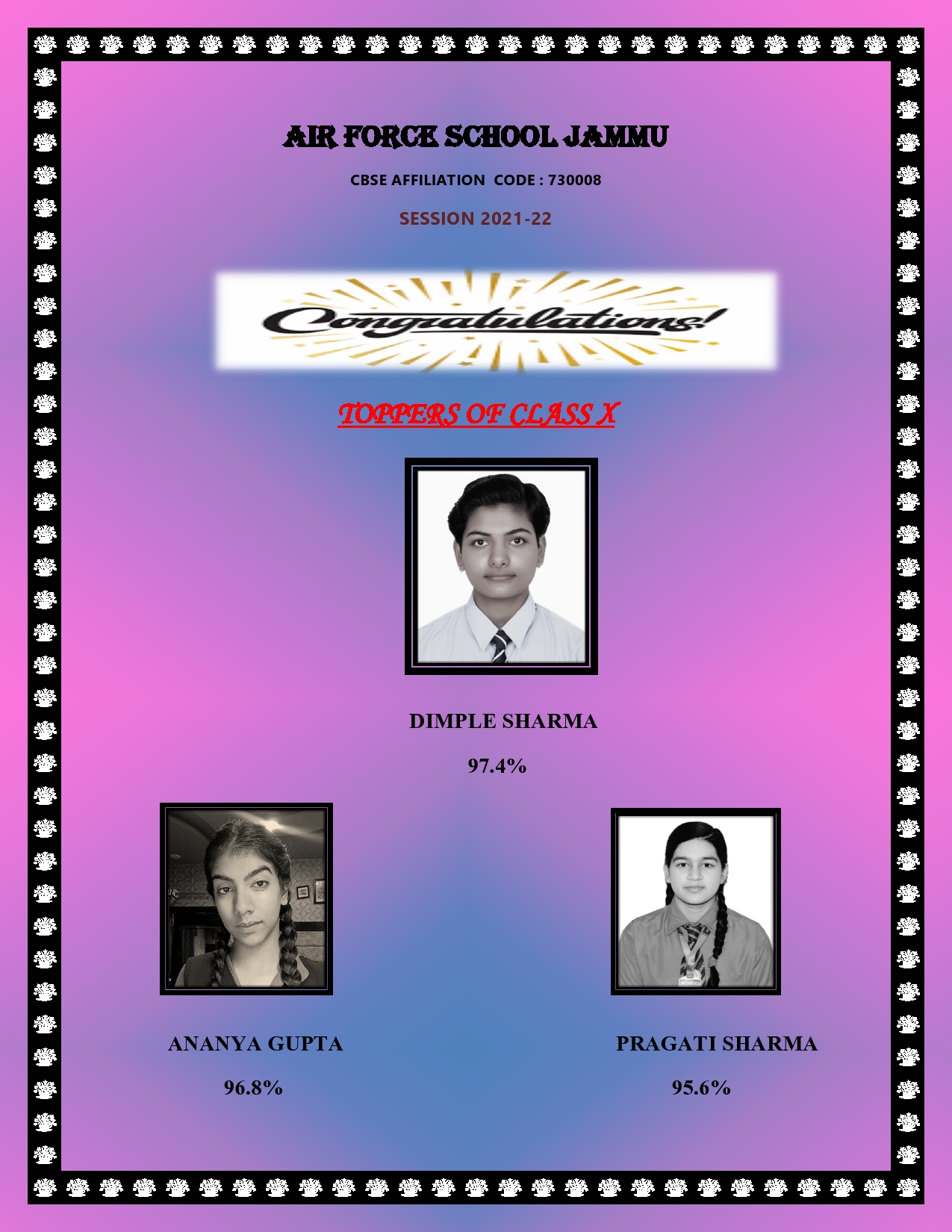 AIR FORCE SCHOOL JAMMU RESULT CLASS 12th COMMERCE
AIR FORCE SCHOOL JAMMU RESULT CLASS 12th SCIENCE
COMBINED RESULT
SPIC MACAY (Society for the promotion of Indian Classical Music and Culture among youth), a non-political, nationwide, voluntary movement organized a virtual fest hosted by Air Force School ASTE. It was the fourth edition of ANUBHAV 2021 planned for Saturday 28, August 2021, through a virtual platform. Under the theme 'Emerald Groves- The Lifeline of existence'A total of 20 schools all over India and 517 starling student participants. From our school, a total of 30 students participated in varied categories of events.

6 of our students brought laurels to the institution.
Siddhi Kumari (IX) - 1st in Ad mad show
Rudrika Sharma (IV) - 2nd in Trash treasure
Arpreet Kour (X) - 2nd in Ad mad show
Kevin Kadian (VII) - 3rd in Trash treasure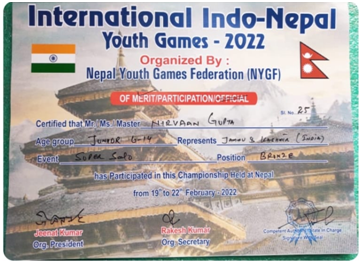 Nirvaan Gupta of class VIII C Won Bronze medal in Super solo category of Speed Ball at Indo Nepal Games 2022 held in Nepal.
Bhuvi (class-IV B) got Silver medal in cadet hockey match in State Championship.
Aakshra Sharma of VII B is Selected for final coaching camp for Junior Nationals and participated in Junior National Gymnastics w.e.f 21-26 November 2021.
Arjunveer Singh of IV A Participated in Poetry Rendition completion organized by motivational strips (international platform) and got 3rd prize in Indian category.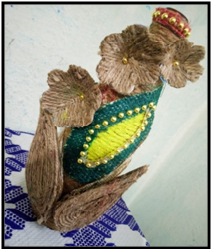 Dimple Sharma of Class: 10th A won 2 nd consolation prize in Shilpkar craft and creativity fest.
An online Modal United Nations (MUN) session was organised by Jammu Sahodaya in association with The Vidhyalaya, a youth community from 10th to 13 sept.2021.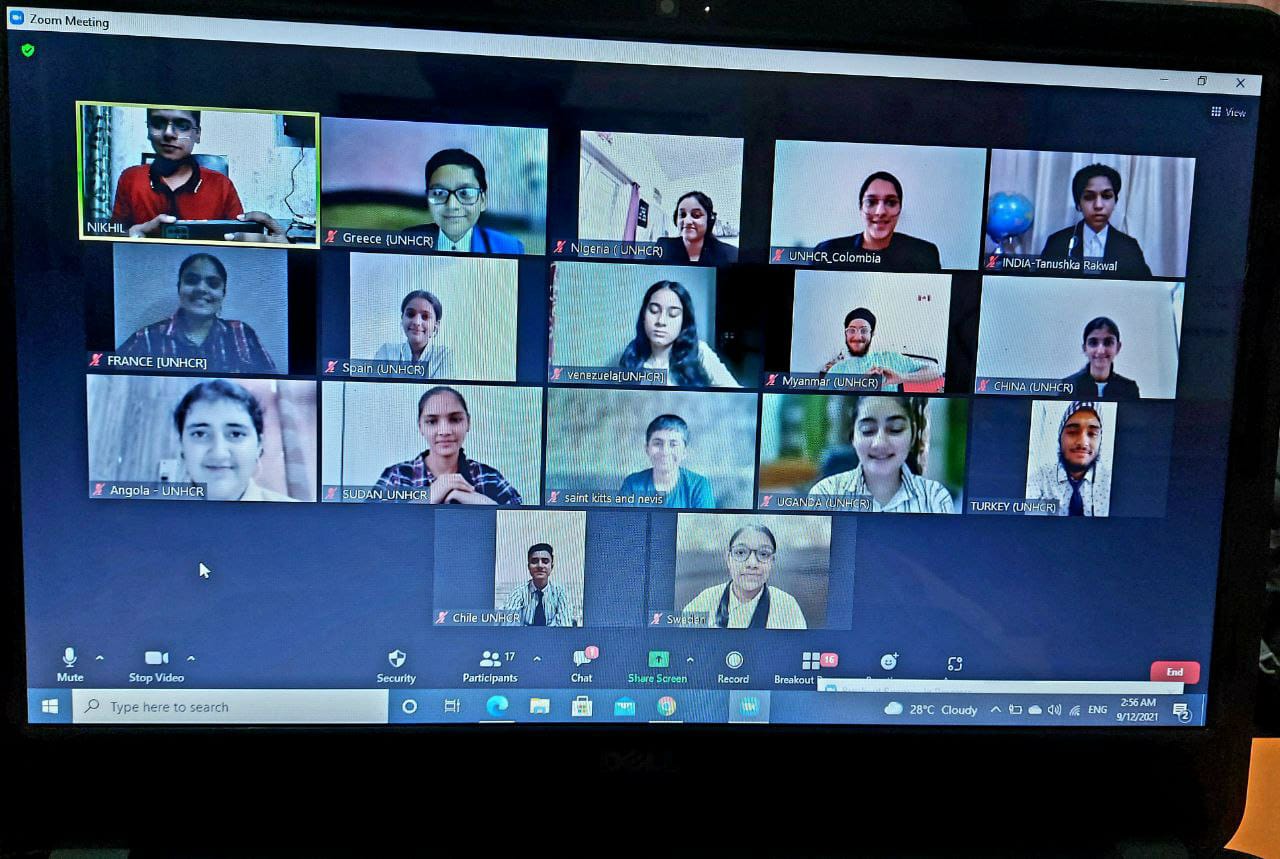 Around 360 students from 33 schools across Jammu participated and made the event a success. A team of 12 students from Air Force School Jammu lead by Ms Kusum Rakwal, PGT English ( Campus Ambassador) also participated and came out with flying colours. It is a matter of great pride that the school bagged the 'BEST DELEGATION' Trophy. Each and every student participated with great zeal with full determination. Following students won the positions in their respective Committees:
1. Aman Roy, XII-A : High Commendation in Stakeholders Committee.
2. Tanushka Rakwal, XI-C : Special Mention in UNHCR Committee.
3 Rakshit Bral, X-B : High Commendation in UNHCR Committee.
4. Ananya Gupta, X- A : Best Delegate, NCW Committee.
5 Aarsheya Jasrotia, IX- B : Verbal Mention, UNGA Committee.
This mega event helped the students to brush up their oratory, researching and critical thinking along with Leadership skills. In a nutshell, it was a great learning experience. Looking forward for more such events. Attachments area
ATL of the Month
LIST OF SPORTS ACHIEVERS OF ALL INDIA AIR FORCE SCHOOL SPORTS AND ATHLETICS CHAMPIONSHIP HELD AT CHANDIGARH
From 15th of sep. to 19th of Sep
1. INU SHARMA - HIGH JUMP –GOLD MEDAL
2. PRATHAM BALGOTRA - 100M- GOLD MEDAL
3. VIPUL KAUSHIK – BASKETBALL- GOLD MEDAL
4. RAGHAV PRATAP SINGH – BASKETBALL- GOLD MEDAL
5. RITIK SINGH SLATHIA -HIGH JUMP- SILVER MEDALAND LONG JUMP BRONZE MEDAL
6. AKASHDEEP SINGH – RELAY RACE 100M- BRONZE MEDAL
7. PRATHAM BALGOTRA – RELAY RACE 100M – BRONZE MEDAL
8. AKASH SINGH THAKUR- VOLLLEY BALL- BRONZE MEDAL
The players were accompanied by MR. MANOJ SINGH (PGT PHE) and MISS KIRAN CHOUDHARY (counselor)
Basket ball team of Air Force School won Gold Medal in Jammu Sahodaya Inter school Basket ball championship held on 19/10/2019 at M.A Stadium.
Rithik Singh Slathia got selected for school national games in Long jump to be held at Sangrur , Punjab.
Harmanjeet Kour and Manpreet Kour added feather to Air force School by getting selected for the school national games in Athhetic ( 4 x 100 Relay and 200 mts race).
1)
Vivek Gupta won a gold Medal in 800 mts
Race.
2)
Ritik Singh Salathia won a Gold medal in long jump and Silver in High jump. He also bagged the Best Athlete trophy consecutively for the second time.
3)
Pratham Balgotra won a Gold medal in 100 mts Race, 200 mts Relay and Silver in 100 mts Relay.
4)
Akashdeep Singh won a Gold in 400 mts Race and 200 mts Relay.
5)
Inu
won a Gold in High Jump.
6)
Air Force school Jammu bagged the runners up trophy in WAC Inter School Athletic Championship 2019-20.
7)
Participants of WAC Inter School Athletic Championship 2019-20.
8)
Basket ball Girls team won a Gold Medal in WAC AFSchool
Athletic and sports championship at Ambala.
9) Aena Gupta and Dimple won a Gold Medal in Badminton doubles.
10)
Niket Thakur
won a Silver Medal in badminton singles.
11)
Tanishka Won a Silver Medal in Table Tennis
12) Gunjot won a Silver Medal in Chess
13) Basket ball boys team won a Silver Medal in WAC AFSchools Athletic and sports championship at Ambala.
14) Aena Gupta won a Silver Medal in Badminton Singles.
15) Volley ball boys team won a Silver Medal in WAC AFSchools Athletic and sports championship at Ambala.
16) Participants of WAC Inter School Athletic and Sports Championship 2019-20.
17) Inter School District Athletics Championship conducted by Youth Services and Sports held on 26th to 30th August 2019 at Jammu University.
1) Ritik Singh Salathia U – 19 Long Jump - Gold
2) Manpreet Kour U – 14 200 mts - Gold
3) HarmanJeet Kour U – 14 100 mts - Gold