Achievements:
DANCE COMPETITION
Jammu Sahodaya Inter School Dance competition 2018-19 was hosted by Presentation Convent on 24

th

Aug. 2018. 27 Schools participated in this competition .Our school stood 3

rd

in the Dance Competition.
ENGLISH DECLAMATION
Jammu Sahodaya inter school English declamation competition 2018-19 for the junior category was hosted by APS Damana, On 7th august 2018.This category included students from 6th to 8th standard.
Topic for the Declamation was "Empowered youth as Partners for change" .The list of personalities was attached for each contestant to personify himself/herself on the above mentioned topic. 25 schools participated in this competition. Two students of AFS, Jammu participated in this event. The details are:-
1) VII –A – Dimple Sharma as "Kiran Bedi".
2) VIII- B – Tanushka Rakwal as "Indra Nooyi"
Tanushka Rakwal bagged third Prize.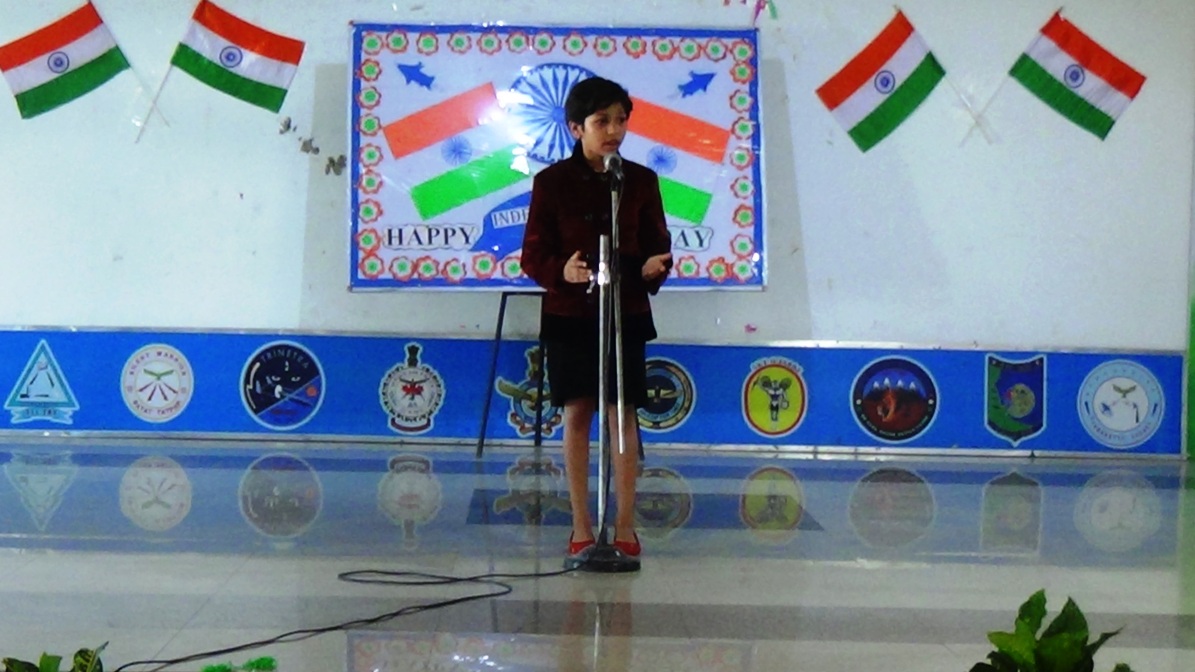 A) Air force school Jammu participated in PUNJAB OPEN CUP NATIONAL KARATE CHAMPIONSHIP- 2018 from 17th to 19th August 2018 organized by JAPAN SHOTOKAN KANNINJUKU KARATE ORG. PUNJAB at multipurpose Hall Guru Nanak Stadium Near Durga Mata Mandir Ludhiana.
Gold Medal Winners:-
1. Subakh Rajput
2. Tushant Gupta
Silver Medal Winners:-
3. Mritunjay Gupta
4. Manik Banmotra
5. Nikhil Chib
Bronze Medal Winners:-
6. Vineet Pal Singh
7. Simran jeet Singh
8. Anuj Dutta
9. Kushagar Sharma
10. Shivanshu Jamwal
11. Jayesh Baskar
12.
B) 10th STATE SPEED BALL CHAMPIONSHI ORGANISED AT Jammu
University by J& K Sports speed ball Association on 16th to 20th Dec.
In our school 34 students participated in this championship. AFS Won
Total 17 medals
7 Gold
5 SILVER
5 BRONZE
1) Pratham Balgotra bagged one Gold in (200 mts) and two Silver (4*100 and 4*200 relay).
2) Inu Sharma won Two medals with one Gold (High Jump) and one Bronze (Lon g Jump).
3) Ritik Singh Slathia achieved best athlete trophy in WAC Air Force School Athletic championship held at Hindan with two Gold (400 mts and High Jump) and two Silver (4*100 and 4*200 relay).